Akane 'Jubei' Yagyu

Akane as illustrated by Mahiru Izumi.

Awakened Princess
Kanji
柳生 十兵衛 三厳
Rōmaji
Yagyū Jūbē Mitsuyoshi
Series
Hyakka Ryōran Samurai Girls (Anime)
Profile
Gender
Female
Race
Human
Occupation
Samurai
Likes
Muneakira
Dislikes
Losing
Hobby
Fighting
Appearance
Hair Color
Red
Eye Color
Blue
Height
158cm (Approx 5'2")
Bust
90 (35)
Waist
58 (23)
Hip
87 (34)
Akane (better known as Jubei Yagyu) is a character from the Hyakka Ryouran: Samurai Girls series. She is a master samurai, contracted under Muneakira.
Appearance
Akane has a detailed hairpin, and also a sword-guard in her hair. She wears a pink sweater-dress, with red ends and a white string looping through. On her back she has a Japanese drum with a long, tied white cord attached to it. At the end of the cord is made into what appears to be a brush, with a black holder with lettering on it, possibly the Yagyu surname. On her legs, she wears white tied cloths on her upper thighs, and brown shin-guards and black sandals.
Personality
Akane is an honorable warrior, giving out respect to those she deems worthy. She is innocent, cheerful, and forgets a lot of things, and acts somewhat child-like. She has a tendency to address people by nicknames. When she transforms, however, her personality drastically changes. She takes on a very sadistic nature.
Abilities
She wields a katana and a wakizashi, the katana being able to detach into smaller blades. She can heighten her power level, (by kissing her contractor Muneakira) and become far stronger than her regular state.
Trivia
Gallery
For this character's gallery, visit: Akane 'Jubei' Yagyu/Gallery
Freetalks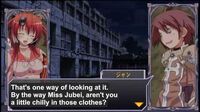 Community content is available under
CC-BY-SA
unless otherwise noted.