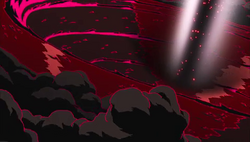 The Demon's Gate (冥界) is the medium between the Continent, and the Underworld. Not much is known about this location, as it is kept secret from many and is obscure. The demons and summons are brought from the Underworld through the Demon's Gate, usually by the power of the Swamp Witch.
Entities from this region
Trivia
There may be more than one "Demon's Gate," but this has yet to be seen.