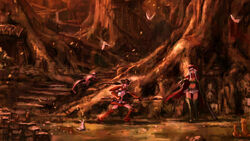 The Elven Forest(エルフの森) is a large area populated almost entirely by Elves. The forest is beautiful and plentiful, and covers a large amount of area on the continent. Part of the forest has also been occupied and ravaged by The Swamp Witch. The Elves occupying the area have a strict no-human-or-outsider policy, and seek to enforce it whenever they can. The Elves there also do not wear the conventional means of underwear, using leaves instead.
People from the region
Nearby Regions
Gemstone and Iron Moutain to the Northwest.
Sheldan Free City and Vance County to the North.
Gainos to the South.
Marshlands and Kreutz Territory to the Northeast.
Amara Desert to the East.
Calibara Forest to the Southeast.
Gallery