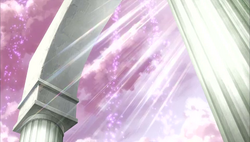 Heaven(天界) is the world above the Continent, where the angels dwell. It consists of pure white buildings, accentuated by large pillars, all set on top of golden clouds. Magic is prominent there, lending its properties to things such as The Holy Grape Tree.
People from this region
Kyuel (from "kyu", nine)
Sevel (from seven)
Hebtael (from "hepta", seven)
Achtel (from "acht", eight)
Liliel (messenger of Heaven, like the Archangel Gabriel, whose symbol was a "lily")
Angels
The angels(天使) are residents of Heaven, and subsequently act as guardians of the area. Most maintain a superior type of attitude towards humans, looking down upon them as lesser beings.
As revealed in the Unlimited story, angels have the authority to designate someone as a Beautiful Fighter, if they judge her worthy after seeing her display bravery, self-sacrifice, or such.
They also have the privilege to christen with a warrior title any Beautiful Fighter who can't decide her own.
Leader
Appearance
The angels usually wear all white outfits, either long dresses or short ones, with varying colors. It is important to note that their outfits may differ from rank.
Abilities
The angels are very powerful, capable of devastating magical and physical attacks, and because of their power some of the higher ranks must be limited when engaging with humans, usually via a Holy Milk vial.
Gallery
Trivia
The buildings in Heaven are similar to Greek structures.
Gallery