Helosium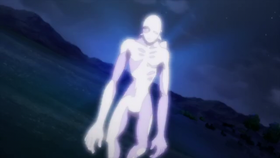 Divine Titan
Profile
Appearance
Helosium is a heavenly summon that Laila and Nanael accidentally sent to the Continent, causing it to unintentionally  wreak havoc upon the land.
Appearance
Helosium takes on the form of a giant, humanoid figure composed of solidified Holy Milk.
Abilities
Helosium is able to stretch itself out to attack its enemies and can erode clothing and even rock with just a splash from its body. Because of this, melee attacks are rendered useless against it. Helosium's only apparent weakness is its core, which can be destroyed by a powerful direct attack.
Trivia
Helosium seems to have a penchant to only capture women, although this can be explained, as it's orders were to capture the Swamp Witch.
Helosium seems to be inspired in shape in Shinji Ikari's EVA-01 from Neon Genesis Evangelion, except being stripped from its armor. His weak point is also a reference from the same weak point used by the Angels from the same series, since they need their core to be destroyed just to be able to defeat them.
The way Laila destroys it resembles how the EVA-01 destroys Ramiel The Fifth Angel during Operation Yashima in Evangelion in the same way in the sixth episode from the same series.
Gallery