Obi-Wan Finale - The Loop
Play Sound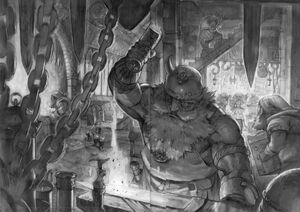 Iron Mountain(鋼鉄山) is the home of the dwarves, who are renowned for their armor and weapon craftsmanship, and the rules and edicts they follow. Not much is known about them, and few outsiders have been allowed into the mountain.
To melt the iron, the iron manufacturing process uses what they call "Asgartan fire jars," jars filled with a high heat flame. Due to their constant exposition to the flames, most dwarves are immune to the heat.
People from this region
Nearby Regions
Vance County to the North.
Gemstone Mountain to the West.
Elven Forest to the East.
Gainos to the South.
Gallery
Trivia
It is interesting to note that Dwarven women do not age as fast as the men do, in regards to outside appearance.  Ymir, for example, is several decades old, yet resembles a little girl.