Joan

Joan as illustrated by Shiwasu no Okina.

Crimson Terror
Profile
Gender
Female
Race
Human (Or presumably an Oni)
Occupation
Prison Guard 
Likes
Happy Happy Pearly 
Dislikes
Party-poopers and sticks in the mud 
Hobby
 
Appearance
Hair Color
Blonde
Eye Color
Brown
Height
 176 cm
Bust
 99
Waist
 66
Hip
88
Joan
is a character from the Queen's Blade: White Triangle video game, presumably under
Taylor
's command.
Appearance
Joan wears a tiara with a heart on her head, heart decorations on her "oni" horns, a very tight, striped violet and white tubetop, a white skirt, furry striped pink and white boots, with a tiger-print legging on her right leg and two bracelets.
Her other outfit is what appears to be sleepwear, with a hood over her head and matching slippers.
Personality
As Lietenant colonel to the advancing 'Triangle Forces, She's happy to crush any Beautiful figthers who dare to stand in their way.
While she may look laid back at first. Once she gets into a fight, she becomes a berzerker, impossible to stop untill her thirst for blood is quenched and every single enemy before her is pulverized.
Abilities
Using her gigantic metal bat dubbed the Happy Happy Kiss, The likes of wich only someone comparably superhuman strength could ever hope to wield, One swing from her is enough to devestate even the metal gate of Iron Mountain.
Trivia
She is voiced by Azuki Shibuya.
She calls Taylor "Tay-sis" ("Tera-nee") and Mei "Mei-Mei" ("Meicchi").
Gallery
Videos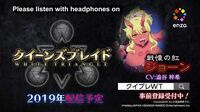 Community content is available under
CC-BY-SA
unless otherwise noted.