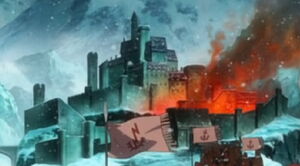 The Kreutz Margraviate(クロイツ辺境伯) was a small county led by the Margrave Kreutz, Annelotte's father, that was once known as the "golden land" due to their growth in the production of grain. It had a castle that was secluded high in the mountains, with a long bridge going over a deep canal.
Once a territory supportive of the Vance and the Queens, when a rumor about the Margrave Kreutz' supposed hostility towards the Queen blew out of proportion, the whole Margraviate was dragged into the vortex of the war. After Kreutz was killed by the Queen's forces, the Kreutz Margraviate was overcome by the Queen's Army, led by Elina Vance.
People from this region
Nearby Regions
Swamplands to the North.
Amara Desert to the South.
Elven Forest to the West.
Kreutz Knight Corps
Wearing a "fleur de lis" as their symbol, they were the strongest knights at the Margrave's service. When the Margrave was killed in battle and the Queen's Army went to crush the Kreutz Castle, they fought to the end, but only managed to save Annelotte (then known as Alphonse.)