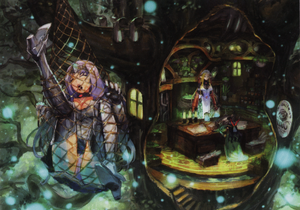 The Little Elf Forest(リトルエルフの森) is the home of the little elves, a sub-race of elves who are of diminutive stature.
People from this region
Nearby regions
Kreutz Margraviate to the southwest.
Swamplands to the west.
Shai-Fang to the northwest.
Trivia
The Little Elf Forest is the home of Cyan, Yuit's mother, the greatest alchemist on the Continent.
The village of little elves in the forest was burned to the ground by Elina and the Queen's Army during the Rebellion. However, most of the villagers escape.