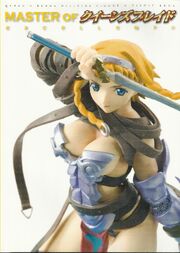 Master of Queen's Blade Excellent is a book containing images of the first Queen's Blade figures released, with its latter half featuring images, drafts and various information about Queen's Blade. A second volume called Master of Queen's Blade Excellent 2 was released later, focusing on Rebellion.
Contents
Part 1: Figure Gallery
A compilation of every figure released until the time Rebellion was announced.
Part 2: Design Works
Information about the original Queen's Blade series organized as follows:
Character Graphics: pictures of the characters with excerpts from their books and a little commentary.
Character Design: rough sketches of the characters, with a few details on their physique and clothing.
Early Design: a few rough preliminar sketches of the characters, before their final design was agreed upon.
Interviews: an interview on how every character came to be, and another interview with the managers of the QB figures.
World Guide: a brief introduction on various locations of the Continent, and a relationship chart with all the characters.
Gallery