Mei

Mei as illustrated by Shiwasu no Okina.

White Lily Magician
Profile
Gender
Female
Race
Human
Occupation
Sorceress 
Likes
Black tea, Sweets 
Dislikes
Anything remotly ugly 
Hobby
 
Appearance
Hair Color
Violet
Eye Color
Blue
Height
 140 cm
Bust
 72
Waist
 50
Hip
72
Mei
is a character from the Queen's Blade: White Triangle video game, presumably under 
Taylor
's command.
Appearance
Mei wears a long white and yellow dress, with a striped blue and white ribbon, white evening gloves and black shoes.
Her other outfit consists of a maid-type attire, with striped blue under-shirt and pink waist-cloth.
Personality
Mei is one of the women summoned from a parallel universe by the Swamp Witch.
As strategist to the 'Triangle' forces, she's the culprit behind each and every trap the Beautiful Fighters run into.
Abilities
Setting her traps up with a smile, she might seem like a cute if mischievous little girl… but get caught by one and you're sure to be left hurting in both body and mind.
Incidentally, her precious parasol connects to a parallel universe. She's a tricky weapons aficionado who loves to overwhelm the Beautiful Fighters with her vast array of weaponry.
Trivia
She is voiced by Kaiga Sakurai (櫻井海亜).
Gallery
Videos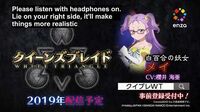 Community content is available under
CC-BY-SA
unless otherwise noted.