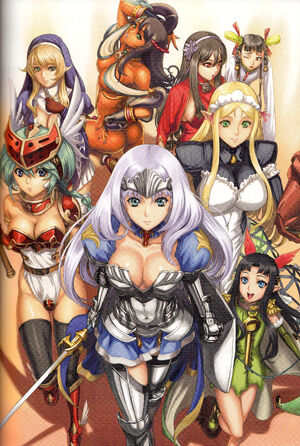 Queen's Blade Rebellion is the third season of the Queen's Blade anime. It features an all new cast of characters, although several characters from the previous seasons show up. The previous season to this one is Queen's Blade: Beautiful Fighters.
Story
Set after the events of Queen's Blade (first two seasons), Gainos and the entire Continent has fallen under a tyrannical rule led by Claudette, the Thundercloud Queen (see Queen's Blade: Beautiful Fighters Episode 1: Faith: Elina's Unshakable Bond). Annelotte, a brave young knight and exiled princess, leads a band of rebels to overthrow Claudette and restore peace and order to the Continent.
List of Episodes
Prologue
Premium Visual Book OVAs
1. A New Disciple, A New Battle
2. A Saint's Agony: The Door of Faith Reopens
Main Story
Omake
Gallery
Art
Community content is available under
CC-BY-SA
unless otherwise noted.