Queen's Blade: White Triangle
Developer
Bandai Namco Entertainment
Publisher
Composer
Platform
Mobile, PC
Release Date
JP: 2019
Genre
Role-playing

Strategy

Mode
Single-Player
Rating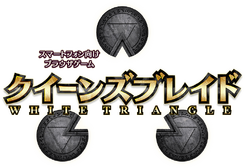 Queen's Blade: White Triangle is an upcoming JRPG for mobile and PC. It features characters from Queen's Blade Unlimited as well as some new characters exlusive to the game.
Story
Plot details to be announced.
Gameplay
The game is mission based. When you select a campaign you'll get a linear map that advances from levels 1 to 2, ETC. When you select a mission on the map, You get the option to bring 3 fighters with you into that mission. After that you'll be transported to a battlefield that contains Warriors and treassure chests, You instagate a fight when you press on another fighter, and pick up a chest when you walk over them.
When you are fighting another fighter, you get a choice between cards with different attributes. Just like in spiral chaos, there is a Rock, Scissor, Paper mechanic that does more damage depending on the type the enemy is. Also returning from the Spiral Chaos games, is the Armor Break System. Certain attacks target specific body parts of a fighter, And once enough damage is done to that part, A little animation plays, Showing ripping clothes. Perfect knockdowns Also return, Meaning you can beat an opponent by destroying all their armor parts, And win without completly depleting their life bar. Winning with this method allows you to 'Punish' Your Opponent as In Spiral Chaos, But this time, The mini game is more reminicent of a rhythm game, Similair to osu. Beating this will show an additional image of your enemy being humiliated.
There are also special attacks that are selectable after a certain amount of attacks/turns have been passed. You can also fill up a 'Climax' Meter, and Once its full, you'll attack with all members that are currently in your team. This attack can be activated at any time, Unless its not charged, Or its the enemy's turn to attack.
Game Characters
Gallery
Promotional Images
Community content is available under
CC-BY-SA
unless otherwise noted.