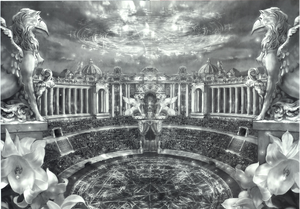 Queen's Blade is a single-elimination combat tournament that is held every four years to determine who will be Queen of the continent.
Rules
Any woman twelve years old or above, and of sound mind, may participate, including foreigners and even intelligent beings that aren't strictly human.
Though weapons are allowed and the participants are encouraged to fight with the deadliest techniques they might possess, a match can't result in the death of the loser.
After a participant wins the finals, if the current Queen so wishes, the participant can fight the current Queen. (Though not explicitly stated in the rules, if the Queen wins this match, she'll remain as the Queen).
The tournament brackets are not made public, but the date and the location of the match will be communicated three days in advance. The bracket is created by the current queen, and delivered via the royal mages.
The battles are broadcast to the whole Continent through magical crystal balls.
History
The Queen's Blade tournament started 120 years ago, following the tradition from the founders of the Continent: "The strongest woman can rule this country."
The twenty-eighth and twenty-ninth Queen's Blade tournaments were won by Aldra, thanks to the great demonic powers she received from Delmore.
The thirtieth tournament was won by Leina, who relinquished the throne to her sister Claudette.
As of Rebellion, the tournament has been abolished due to Queen Claudette's mandate.
Known Contestants of Queen's Blade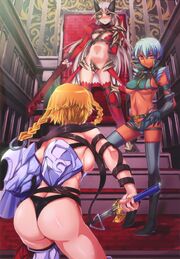 30th Queen's Blade Tournament Matches
1st Round
-Tomoe vs. Melpha
-Elina Vance vs. Nyx
WINNER: Elina Vance (By Default)
-Alleyne and Nowa vs. Echidna and Irma
WINNERS: Echidna and Irma (By Default)
-Leina Vance vs. Ymir
-Cattleya vs. Airi
WINNER: Airi (By Default)
-Claudette Vance vs. Menace
2nd Round
-Irma vs. Risty
-Tomoe vs. Elina Vance
-Nanael vs. Airi
WINNER: Nanael (Due to Airi's disappearance)
-Leina Vance vs. Nanael
WINNER: Leina Vance (By Default)
-Claudette Vance vs. Risty
Quarter-Final
-Leina Vance vs. Tomoe
Semi-Final
-Leina Vance vs. Risty
Final Match
-Leina Vance vs. Aldra
Queens of the Continent
Trivia
Some of the matches from the anime don't correspond with the official version. As stated in the Perfect Visual Book, Ymir lost against Claudette and Melona lost against Cattleya.
Gallery