Queen's Blade is originally a series of combat books adapted from Firelight Game Company's Lost Worlds series.
How to Play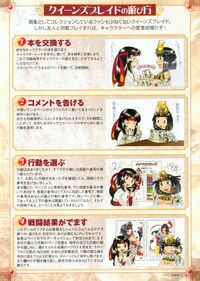 Play requires two players and at least two "visual combat books", with each player choosing a character (i.e., a book) from those available. At the start of play, each player removes the character sheet for that character from their book and hands the book to his or her opponent. The character sheet lists the various combat actions which the character can take during the battle. The combat book lists the effects of the attacks in tables, and serves as a visual reference for what the other player is doing. Hence, each player views entries in the book from a first-person perspective, seeing only their opponent and not themselves.
During each turn or combat phase, players secretly select an action from those shown on their card, possibly influenced by the results of previous turns. Players then simultaneously reveal their intended action, by number, to each other. Using the character sheet to cross-reference their action with that of their opponent, players then turn to a specific entry in the book they are holding in order to determine the results. These effects may include hit point loss (i.e., a wound), as well as any restrictions on the opponent's next move (which is read aloud to them). The first character to reduce their opponent to zero hit points wins.
Releases
Queen's Blade
Released:
November 25, 2005
ISBN-13:
978-4894254008

Released:
November 25, 2005
ISBN-13:
978-4894253988

Released:
December 28, 2005
ISBN-13:
978-4894254015
Released:
December 28, 2005
ISBN-13:
978-4894253995

Released:
June 9, 2006
ISBN-13:
978-4894254305

Released:
June 9, 2006
ISBN-13:
978-4894254312
Released:
September 29, 2006
ISBN-13:
978-4894254671

Released:
September 29, 2006
ISBN-13:
978-4894254688

Released:
December 22, 2006
ISBN-13:
978-4894254954
Released:
December 22, 2006
ISBN-13:
978-4894254947

Released:
March 16, 2007
ISBN-13:
978-4894255159

Released:
March 16, 2007
ISBN-13:
978-4894255142
Released:
June 29, 2007
ISBN-13:
978-4894255685

Released:
June 29, 2007
ISBN-13:
978-4894255692

Released:
October 18, 2007
ISBN-13:
978-4894256163
Released:
October 18, 2007
ISBN-13:
978-4894256156

Released:
February 15, 2008
ISBN-13:
978-4894256668

Released:
June 20, 2008
ISBN-13:
978-4894257238
Released:
June 20, 2008
ISBN-13:
978-4894257221

Released:
September 30, 2020
ISBN-13:
978-4798623146
Queen's Gate
Released:
November 30, 2007
ISBN-13:
978-4894256279

Released:
November 30, 2007
ISBN-13:
978-4894256286

Released:
April 18, 2008
ISBN-13:
978-4894256972
Released:
October 3, 2008
ISBN-13:
978-4894257757

Released:
November 28, 2009
ISBN-13:
978-4894258624

Released:
November 28, 2009
ISBN-13:
978-4894259645
Released:
February 27, 2010
ISBN-13:
978-4798600048

Released:
February 27, 2010
ISBN-13:
978-4798600031

Released:
April 30, 2010
ISBN-13:
978-4798600208
Released:
June 25, 2010
ISBN-13:
978-4798600758

Released:
June 25, 2010
ISBN-13:
978-4798600741

Released:
September 30, 2010
ISBN-13:
978-4798601199
Released:
March 25, 2011
ISBN-13:
978-4798601892

Released:
April 28, 2011
ISBN-13:
978-4798602028

Released:
August 12, 2011
ISBN-13:
978-4798602721
Released:
September 30, 2011
ISBN-13:
978-4798602936

Released:
January 20, 2012
ISBN-13:
978-4798603407

Released:
March 17, 2012
ISBN-13:
978-4798603728
Released:
June 29, 2012
ISBN-13:
978-4798604169
Queen's Blade Rebellion
Released:
November 29, 2008
ISBN-13:
978-4894257924

Released:
April 18, 2009
ISBN-13:
978-4894258563

Released:
August 31, 2009
ISBN-13:
978-4894258952
Released:
September 26, 2009
ISBN-13:
978-4894259379

Released:
November 28, 2009
ISBN-13:
978-4894259515

Released:
January 16, 2010
ISBN-13:
978-4894259775
Released:
April 30, 2010
ISBN-13:
978-4798600376

Released:
July 2010
ISBN-13:
978-4798600390

Released:
February 10, 2011
ISBN-13:
978-4798601779
Released:
February 20, 2011
ISBN-13:
978-4798601762

Released:
July 28, 2011
ISBN-13:
978-4798602585

Released:
December 16, 2011
ISBN-13:
978-4798603308
Released:
March 29, 2014
ISBN-13:
978-4798607450
Queen's Blade Grimoire
Released:
November 24, 2012
ISBN-13:
978-4798605098

Released:
November 24, 2012
ISBN-13:
978-4798605104

Released:
June 28, 2013
ISBN-13:
978-4798606163
Released:
July 20, 2013
ISBN-13:
978-4798606385

Released:
January 31, 2014
ISBN-13:
978-4798607436

Released:
April 26, 2014
ISBN-13:
978-4798608051
Released:
December 27, 2014
ISBN-13:
978-4798609393

Released:
June 26, 2015
ISBN-13:
978-4798610344

Released:
January 29, 2016
ISBN-13:
978-4798611570
Released:
September 28, 2016
ISBN-13:
978-4798612966
Queen's Blade The Live
Yuri Morishita - Airi

Released:
October 7, 2009
ISBN-13:
978-4894259409

Vanessa Pan - Alicia

Released:
July 19th, 2013
ISBN-13:
978-4798606392

Ayama Sayaka - Liliana

Released:
October 20th, 2013
ISBN-13:
978-4798606798