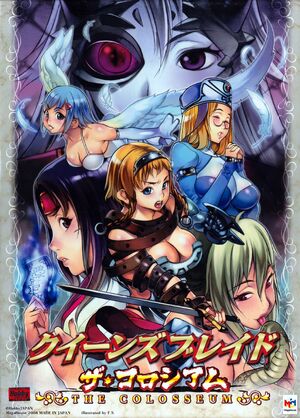 Queen's Blade: The Colosseum is a board game for 3 to 5 players, that assume the role of Leina Vance, Tomoe, Nanael, Echidna or Melpha as they try to overthrow the Queen Aldra at the center of the board.
Instructions
Winning and Losing Conditions
The game ends when Aldra is brought down to 0 hit points. The player who has scored the most damage on her wins.
Similarly, a player is defeated when she's brought down to 0 hit points.
Playing Board
The players use a 6-sided die to move around Aldra, who occupies the 5 positions at the center.
When the players arrive at the positions with an attack symbol, they can use their action cards to cause damage on Aldra.
Aldra's position is determined by the die throw. Each of the 5 central positions have a die result assigned to them, plus she can recover from her damage if a 1 comes out.
Card Information
Besides the action cards with attacks of varying power, each character has 4 character cards with progressive states of damage. The last two character cards cause an attack and defense penalty along with the damage, but may raise other parameters.
Gallery
Community content is available under
CC-BY-SA
unless otherwise noted.