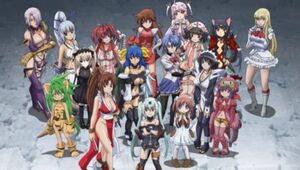 Queen's Gate is a series of visual combat books published by Hobby Japan. The supplement to the Queen's Blade visual combatbook series, it features licensed female characters from other games and works, including those from Hobby Japan. Like Queen's Blade before it, the books are compatible with Flying Buffalo's Lost Worlds Gamebooks. A video game adaptation, Queen's Gate: Spiral Chaos was developed by Namco Bandai for the PlayStation Portable.
Story
Alice is a treasure hunter, scouring the world for legendary artifacts, and comes across the Queen's Gate, a powerful artifact which unleashes a battle across space-time.
Characters
Gal Monsters
Gal Monsters appear in the Spiral Chaos world, lending a hand to the enemies you can battle. There are dozens of types, the most well-known likely being the half-human Arane. Most of the Gal Monsters you encounter can be captured, which Jean can do by getting a "perfect knockdown" on said monsters, enabling them to join his team and fight for him.
Gallery
Trivia
Though literally "girl monster," the translation "gal monster" comes from the name of AliceSoft's GalZoo Island that focuses on them.
Community content is available under
CC-BY-SA
unless otherwise noted.