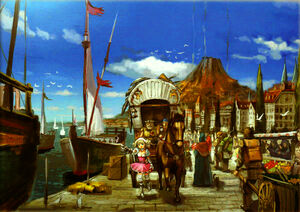 Sheldan Free City(自由都市シェルダンス) is known as an important hub of trade and traffic, a free city where the Queen's Blade preliminaries are usually held. Originally a city built on the ruins from ancient times, underground water passages are present everywhere. Its specialty is its crab dish. Though the feudal lord governing it is quite skilled, the city has been attacked by pirates in recent years.
Nearby Regions
Swamplands to the East.
Elven Forest to the South.
Vance County to the West.
Gallery