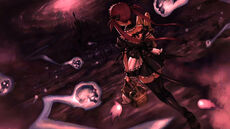 The Swamplands(沼地)(also called the Marshlands) are a desolate, decaying area where hardly any life grows, and any that does slowly rots or decays. It is the home of the Demon's Gate, where it is said that monsters can cross from that world into this world, and where the dead dwell. One notable feature about the Swamplands is the remarkable abundance of hot springs in part of the area. It is unknown how the water remains clean and not rife with decay and dirt. The deeper parts of the Swamplands are extremely hostile to human habitation.
People from this region
Melona (Did not originate from, but currently resides in)
Airi (Did not originate from, but currently resides in)
Nearby Regions
Houses the Demon's Gate.
Shai-Fang to the North.
Little Elf Forest to the East.
Amara Desert and Kreutz Margraviate to the South.
Sheldan Free City to the West.
Skeletal Army
The Skeletal Army(骸骨剣士) is an army of undead, brought to life by the Swamp Witch.
Leader
The Swamp Witch
Appearance
They appear as skeletons, and only wear a metal breastplate, with a sword and shield. There is an aerial variant, which looks similar to how Airi's "Lesser Spirits" appear.
Abilities
The army is extremely devastating, able to convert humans into their forces almost immediately. Without the proper preparations, the army is capable of quickly overwhelming most warriors.
Liliana's Pirates
Captain Liliana's pirate crew man her ship, and provide the force during her raids on the Continent.
Leader
Liliana (Although, they can be controlled by others.)
Appearance
They resemble actual pirates, and act accordingly to Liliana's orders.
Abilities
While not having been seen to be as a effective as the Skeletal Army, they are still able to strike fear into the residents, and are very efficient when doing raids.
Swamplands Gallery
Skeletal Army Gallery
Liliana's Pirates Gallery