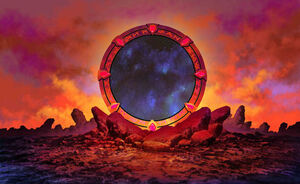 The Queen's Gate(クイーンズゲイト) is an interdimensional portal that when activated, allows its user to travel through to other dimensions, regardless of time and space. However, when used incorrectly, it can cause many dimensions to merge, allowing entities from different eras and points of time to integrate. While its powers are still unknown, it is generally agreed that the the Queen's Gate only be controlled by highly intelligent beings, who are able to decipher and process the inner workings of the device. Alice's mother, Lewis, originally found the gate and accidentally caused an interdimensional collision while attempting to travel through it.
The creators of the Queen's Gate are currently unknown.
According to Setra's comments in the Perfect Book, it is a treasure hailing from Amara.
Users of the Queen's Gate
Trivia
Gallery
Community content is available under
CC-BY-SA
unless otherwise noted.